Shows
Faust International – Nutcracker The Play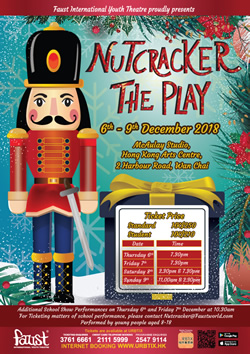 UPDATE: Tickets to Nutcracker The Play are now SOLD OUT!

Our next production is Peter Pan & Wendy, which opens on February 21st at Hong Kong Arts Centre. Click here to learn more about the show!



December 6th – 9th 2018
McAulay Studio, Hong Kong Arts Centre
2 Harbour Road, Wanchai, Hong Kong

Faust International Youth Theatre is very proud to present their first production of their 20th anniversary season, Nutcracker The Play, performed by our talented actors aged 8 to 18.

About the Show
On Christmas Eve, Clara's uncle presents her with the unusual gift of a Nutcracker. She is thrilled and excited about her new gift and places the toy under the Christmas tree. At midnight, Clara is awoken to find the Christmas tree and her toys are starting to grow. Or is it perhaps that she is shrinking? Experience a truly magical adventure this Christmas as we follow Clara and her Nutcracker as they journey to meet the Sugarplum Fairy and battle to protect their house against the mouse king and his band of sneaky mice.

This unique version of The Nutcracker captures the magic and fantasy of the original story through movement and music with an unexpected twist.

Suitable for ages 4 and above!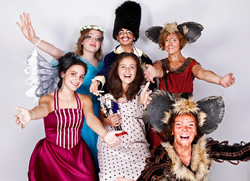 Check out photos from our photoshoot here!

Performance Dates
Thursday December 6th 7:30pm
Friday December 7th 7:30pm
Saturday December 8th 2:30pm and 7:30pm
Sunday December 9th 11:00am and 2:30pm

Running time approximately 2 hours including an interval

Additional school show performances available on Thursday December 6th and Friday December 7th at 10:30am. For more information, please contact Sarah Dyson on 2547 9114 or by email at Nutcracker@Faustworld.com.

Ticketing
Adults: HK$250
Students: HK$210

Tickets available from now from URBTIX!

Credit Card Telephone Booking: 2111 5999
Internet Booking: www.URBTIX.hk
Ticketing Enquires: 3761 6661

Book your tickets now!

For more information, please contact us 2547 9114 or by email at Nutcracker@Faustworld.com.