Programmes
Summer Theatre and Creative Writing Programmes
About our Summer Theatre Programmes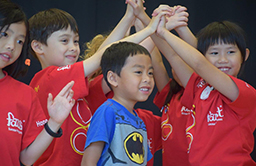 Our 2018 Summer Theatre & Creative Writing programmes have drawn to a close. If you would like to register for our upcoming Holiday Programmes during the 2018-2019 season, please click here.

Our Summer Theatre workshops run either in the morning from 10:00am to 12:30pm, or in the afternoon from 2:00pm to 4:30pm for ages 3 through to 14 (different age groups are available at different times) and take place at our studio in Sheung Wan, Ho Man Tin and Discovery Bay.

Each week, under the careful guidance of our leaders, children explore a different drama theme, play or topic. Workshops are tailored to the needs and age of the children and new content is created each week so that children can do multiple courses. Parents are kept informed about what the group has been doing by a mid week email outlining workshop content, as well as being invited to the end of week open session.

The week starts with ice-breaking activities helping the children to become comfortable in their new environment, allowing them to get to know each other and encouraging them to be proactive and supportive. The workshops then focus on development of performance skills such as improvisation, devising, clarity of expression, vocal projection, movement or script work.

About our Summer Creative Writing Programmes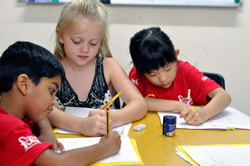 Our Creative Writing workshops run either in the morning from 10:00am to 12 noon, or in the afternoon from 2:00pm to 4:00pm. Workshops are suitable for ages 6 through to 13 (with groups divided according to age), take place at our studio in Sheung Wan.

Each week, under the careful instruction of our experienced creative writing teachers, children look at different aspects of creative writing including metaphors, similes, dialogue, poetry, descriptive techniques and genre writing, to list but a few. Whether a student is an aspiring writer or a novice, our students will have plenty to write about! Our limited class size (maximum of 8 students) allows plenty of time for discussion, as well as group and individual feedback. At the end of the lesson we review what we have done and share what we have learnt and how we will apply this in our writing.

Please note these courses are designed for children with native or a high level of fluency in English, and are not designed as an English as a Second Language programme.



"She is absolutely loving drama, in fact it's her favourite day of the week!"
Faust Parent, 2017

"Thank you for the course. Both kids are loving it! It's been hard to get them to read and write so this has been amazing."
Faust Parent, 2017


For an example of what we cover during our holiday programme please click on the links below.