Summer Theatre (Ages 3 to 15)
Boost your child's confidence, communication and expressive skills through engaging drama and performance-based activities, acting exercises and lots of movement!
Creative Writing (Ages 6 to 13)
Learn and practise new writing techniques to express yourself confidently on the page in a fun, nurturing environment.
Musical Theatre (Ages 8 to 15)
Develop your skills in singing, dancing and acting and learn how to be a triple threat performer!
NEW! Late-Afternoon Programmes (Ages 6 to 13)
Due to popular demand, we have introduced a new series of themed programmes held in the late afternoon at the Faust Studios in Sheung Wan. Programmes include
The Adventures of Roald Dahl, The World of Peter Pan, Storytellers for Life and Teamwork & Leadership.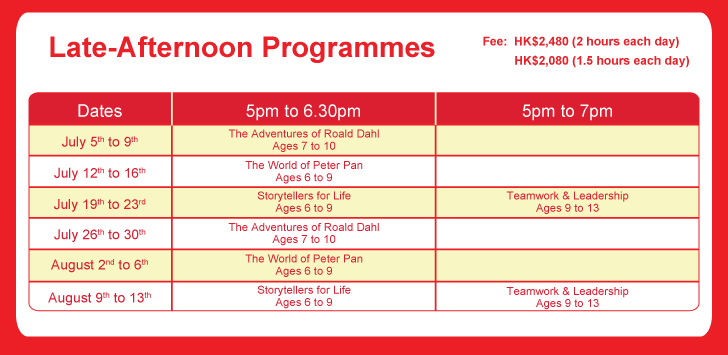 Click on the links below to learn more about each themed programme!
The Adventures of Roald Dahl (Ages 7 to 10)
The World of Peter Pan (Ages 6 to 9)
Storytellers for Life (Ages 6 to 9)
Teamwork & Leadership (Ages 9 to 13)
Summer Programme Dates:
Week 1 – June 21st to 25th
Week 2 – June 28th to July 3rd (no workshop on July 1st due to public holiday)
Week 3 – July 5th to 9th
Week 4 – July 12th to 16th
Week 5 – July 19th to 23rd
Week 6 – July 26th to 30th
Week 7 – August 2nd to 6th
Week 8 – August 9th to 13th
Week 9 – August 16th to 20th
Week 10 – August 23rd to 27th