2016

The Jungle Book
–
December 2016
Performed December 1st to 3rd at the Amphitheatre, Hong Kong Academy for Performing Arts Center. The young human child Mowgli yearns to find his place within the longstanding community of jungle animals. In this fast paced rhythmic adaptation of the timeless classic
The Jungle Book
by Rudyard Kipling, this wild theatrical adventure explores the themes of friendship and bravery.

THE FAUST FESTIVAL
–
2016
Season 17's festival ran from the 7th to the 19th of June 2016 and we performed at Youth Square (a dedicated youth performing space) as well as at various venues on tour!
We had 31 performances to choose from, performed by children aged 4 through to 16. There were so many fantastic plays to choose from –traditional tales, modern interpretations, devised pieces, plays written especially for the festival, timeless classics to name but a few that there was something for everyone.
Our festival is an exciting culmination of the year's work and we were so proud of everyone of our members. Photos of this year's festival will be available soon

Waiting for Godot
–
April 2016
Performed from 28th – 30th April 2016 in the Y-Studio, Y-Square. Waiting for Godot is often hailed as a 20th century masterpiece, a tragicomedy about two men, Vladimir and Estragon, waiting for another man named Godot. Beyond the deceptively simple plot lies an absurdist, dark and captivating vision of humanity. The play is rich with lyrical dialogue and non-sensical slapstick that has fascinated audiences for over 50 years.

Treasure Island
–
December 2015
Performed December 10th to 13th at the Hong Kong Academy for Performing Arts. It's a dark and stormy night. Jim, the innkeeper's grandchild, opens the door to a terrifying stranger. At the old sailor's feet sits a huge sea chest, full of secrets. Jim invites him in – and so begins Jim's dangerous voyage across the seas with a viperous and daring crew. Using a National Theatre adaptation of Treasure Island, written by playwright Bryony Lavery this thrilling version heightened the emotional and physical stakes of a young hero thrust into a dangerous journey into a world full of treachery and betrayal.
2014 - 2015

The Faust Festival 2015
–
May/June 2015
Another fantastic festival of over 60 performances. Many of this year's scripts were written especially for the festival to really showcase every child's unique talents and strengths. Our younger group's performances were inspired by some classic fairy tales and folktales, whereas our older groups did ome new plays exploring modern day issues.

Romeo and Juliet
–
April 2015
Performed April 23rd to 25th at the McAulay Studio, Hong Kong Arts Centre. Run by a hedonistic upper class fueled by greed, the city of Verona is torn apart by mounting tension and random acts of thug violence. From forth the fatal loins of two longtime foes, Capulet and Montague, two teenagers dare to rebel by falling in love. Set in an alternative modern world where duels are settled by swords and letters are still handwritten, our version of the tragedy of Romeo and Juliet unfolds.

Fantastic Mr Fox
–
February 2015
Performed February 5th to 8th at the Shouson Theatre, Hong Kong Arts Centre. Clever Mr Fox lives under a large oak tree with Mrs Fox and their three fox children. Each night he visits farms owned by three nasty farmers named Boggis, Bunce and Bean, outwitting all three to snatch plump chickens and succulent geese to feed his family. Tired of being outsmarted by Mr Fox, the wicked farmers devise a plan to ambush Mr Fox as he leaves his foxhole. A truly fantastic performance by our young and talented cast.
2013 - 2014
The Government Inspector
–
April 2014
Performed on April 3rd, 2014 at the Hong Kong Academy for the Performing Arts. When a young, broke and down on his luck civil servant is mistaken for a high-ranking Government Inspector, mayhem ensues. The town's Governor and Officials work frantically to cover up their corrupt and scandalous ways whilst the imposter takes full advantage of the situation. This 'One Night Only' charity performance for the Crossroads Foundation was updated from the original Russian play by Nikolai Gogol and performed by the members of Faust International Youth Theatre's teenage Stage Group. The show was an energetic mix of satire, farce and outrageous physical comedy.
2012 - 2013
The Lion, the Witch and the Wardrobe
–
December 2013
Performed at the Drama Theatre, HK Academy for Performing Arts, Faust International Youth Theatre presented a unique stage adaptation of C.S.Lewis' timeless children's classic The Lion, the Witch and the Wardrobe. This faithful adaptation was written for the stage by Glyn Robbins and first performed in London's West End in 1984. The ordinary lives of the Pevensie children soon turn into something extraordinary when Lucy discovers a magical world inside an old wardrobe. Desperate to rescue their good friend Tumnus, the fawn, find their brother Edmund and free Narnia from the evil grasp of the White Witch, Lucy, Susan and Peter set off in search of the Stone Table. There they encounter Aslan, the King of the Beasts and enter into a battle to defeat the evil White Witch and secure their rightful place to the four thrones at Cair Paravel.

The Faust Festival 2013
–
May 2013
This year's festival feature 60 shows by children aged between 4 and 16. There was a wide variety of plays to choose from including traditional fairy tales, adaptations of some great children's books, plays written especially for the festival as well as performances devised by the children themselves.

Our Country's Good
-
May 2013
Based on the journals of real people who sailed from Great Britain bound for Australia with the First Fleet, the play discusses themes of morality, punishment, the Georgian judicial system and the idea of theatre as a humanising force. The play is set in Australia 1789. A group of convicts are about to stage the first ever play in the new colony. With a barely literate cast, staunch opposition from the Officers and a leading lady who is about to be hanged, the play's ambitious director must struggle against the odds to bring his vision to the stage. This production was brought to life by a talented cast of young people aged 15-18.
Michael Morpurgo's Kensuke's Kingdom
-
January 2013
Directed by Nicholas Atkinson. The show was adapted from the book by multi-award winner and former Children's Laureate Michael Morpurgo, and combines a tale of the natural world with the story of a touching relationship between a wise old man and a young child. This is a story of survival and of honour, showing vividly the fragile balance between nature and mankind. It is a tale of friendship, trust and ultimately humanity. Michael and his family have always loved their weekends of dinghy sailing but after his dad loses his job down at the brickworks everything changes and their idyllic Sundays on the reservoir are a thing of the past. Never wanting to follow convention, the family decides to live out their dream and sail around the world. Life suddenly seems exciting again and their fantastic voyage begins. Then the unthinkable happens and Michael finds himself alone on a deserted island seemingly populated only with orang-utans. But this island is not just any island, this island is Kensuke's Kingdom.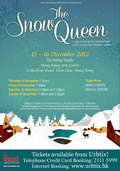 The Snow Queen
-
December 2012
Based on Hans Christian Andersen classic tale, The Snow Queen was directed by Erin McHugh. When Kay is bewitched by the Snow Queen he not only loses sight of those he loves but all that is good in the world. Only Gerda, his dearest friend, believes that Kay is still able to be saved and she sets out on an incredible adventure to find Kay and return him home to his friends and family. The play was set to traditional Finnish folk music and our talented young actors introduced a number of quirky characters that includes a magical Enchantress, a kind-hearted Crow, a friendly Reindeer and of course the evil Snow Queen!

Andrea Darvill
-
November 2012
Andrea brought a whole new set of tales to her Hong Kong audience! She toured around a number of schools performing two shows, Loveable Tales and Stories from Near and Far. The first was for our youngest audience and included a classic Hans Christian Andersen tale of transformation and courage, an Anansi the Story Spinner tale and a Native American folktale about how the small, slow turtle outwits the faster animals in the pond. Stories from Near and Far included a Native American version of Cinderella, a Korean tale of two brother's love, a story from India about a grandmother and her wish and a folktale from Spain showing the power of honesty, transformation and magic.
2011 - 2012

William Shakespeare's The Tempest
-
April 2012
Almost certainly Shakespeare's last full-scale work, The Tempest is considered the bard's farewell to the stage, and this magical and enticing tale does much to support this view. Twelve years ago Prospero, the Duke of Milan, was usurped by his brother, Antonio, with the help of Alonso, King of Naples, and the King's brother, Sebastian. Prospero and his baby daughter, Miranda, were put to sea and landed on a distant island where he has since, by the use of his magic art, ruled over the spirit Ariel and the earthy savage Caliban. Prospero uses his powers to raise a great storm which shipwrecks his enemies on the island, so beginning the story of The Tempest. Written in 1610 – 1611 and one of Shakespeare's most accessible plays, The Tempest was brought to life in this production by a talented cast of young people aged 15 – 18.

The Wind in the Willows
-
December 2011
When Mole decides to give up his spring-cleaning and sets off on a little adventure to the world above ground, he could scarcely have imagined what he would discover there. No sooner has me met Mr Rat and been taught the ways of the river, than he is introduced to the fabulous Mr Toad, who's obsession with carts, trains and motor cars puts him in a real spot of bother when he is imprisoned for twenty years! Cue a dramatic prison break, the intervention of the gruff Mr Badger, a thrilling train chase, more speeding motorcars and ending up in the grand finale as the four friends take on the mischievous Weasels, Stouts and Ferrets in the battle for Toad Hall.
Alan Bennett's superb adaptation of Kenneth Grahame's classic The Wind in the Willows was first performed 20 years ago at the National Theatre, London, UK and since then has entertained audiences young and old around the world. The show was performed at the Academy for Performing Arts and was directed by Nicholas Atkinson
2010 - 2011

Andrea Darvill - Storyteller Extraordinaire!
-
June 2011
Andrea Darvill returned for another successful year with a whole new bag of stories! Andrea is a Canadian born professional storyteller based in Australia and has entertained audiences around the world bringing traditional stories, folktales and fairytales to life on stage. This year she offered two performance. The first was The Littlest Heroes, whose tales show that just because you're small, doesn't mean you aren't strong! The second show was Tales from Around the World where Andrea Darvill performed five delicious stories from near and far. There are tales of bravery and of honesty, gratitude and strength.
Storytelling is one of the oldest art forms and is a unique way for students to develop an understanding, respect and appreciation for other cultures, lands and races. Children young and old loved the stories as they wove a magical sense of wonder for the world around us. Performances took place at the Macaulay Studio as well at schools across Hong Kong, Kowloon and the New Territories.

Peter Shaffer's Equus
-
March 2011
First performed in 1973,
Equus
took the performance world by storm and proved to be a sensational triumph in London and New York where it was awarded the Tony Award for Best Play. Seventeen year old Alan Strang is hospitalised after blinding six horses. Under the treatment of psychiatrist Martin Dysart, Alan reveals his story by re-enacting it before us, slowly drawing Dysart into his life until the psychiatrist believes his own life to be devoid of meaning. Dealing with themes from religion and worship to psychiatry and the influence of society, and described by the UK's Guardian newspaper as 'sensationally good,'
Equus
is a theatrical event which captivates audiences. The cast featured young people aged 15 – 18 and was presented by arrangement with Samuel French Ltd.

Roald Dahl's The BFG
-
February 2011
Roald Dahl's The BFG
was adapted for the stage by David Wood and directed by Nick Atkinson and took place at the Drama Theatre, The Hong Kong Academy for Performing Arts. Performed by young actors aged 8 to 18, the production took audiences on a journey through the witching hour, overcoming giant obstacles and proving that true friendship comes in all shapes and sizes. We joined Sophie on her wonderful adventure as she travelled to lands full of dreams and giants to save human beans the world over, all with the help of some unlikely friends.

The Snowman
-
November 2010
The Snowman
was directed by Emma York and based on Raymond Briggs' moving and much-loved tale. This beautiful story follows a boy who builds his very own snowman, leading him on a magical journey of wonder and friendship. The production had no spoken words, employing mime and movement to bring to life childhood memories of playing in the snow whilst escorting us to a world where snowmen come to life and adventure is merely a few snowy footsteps away.
The Snowman
featured an all-child cast aged 8 to 16 and music by Howard Blake.
2009 - 2010

Faust Festival 2010
-
May 2010
The Faust Festival 2010 ran for four weeks at the Hong Kong Arts Centre, showcasing 49 performances by young people alongside productions of
Peter & the Wolf, Oliver Twist
and Splat! from Faust's Theatre in Education (TIE) programme. Performances included children's classics like
Aladdin
and
The Ugly Duckling
, as well as innovative new tales including
Fractured Fairytales, The Tale of the Firebird, A Wind For Troy
and
The Witchly Sisters' Last Spell
.

The Crucible
-
March 2010
First performed in 1953 at the height of Senator McCarthy's campaign against communists and their associates, The Crucible draws a clear analogy with the witch hunts of Salem, Massachusetts in 1692 – the subject of the play. After a prank by a group of teenage girls goes wrong, the entire village is soon consumed by hysteria, leading to innocent victims being put on trial and the story's devastating conclusion. This extraordinary story unfolds a dramatic and moving portrayal of Arthur Miller's celebrated script by arrangement with Josef Weinberger Ltd.

Alice in Wonderland
-
January 2010
A dramatic interpretation of the classic
Alice in Wonderland
directed by Keon Woong Lee. Young Alice finds herself in a fantasy world called Wonderland, populated by strange and peculiar characters. Alice ventures through this topsy-turvy world full of contradictions, bafflement and surprise and discovers how wonderfully curious life can be. Using an original script and score and an all-children cast, Faust's version of
Alice in Wonderland
is a show full of surprises, twists and turns.
2008 - 2009

Faust Festival 2009
-
May 2009
The annual celebration of live theatre returned for a triumphant 10th season! The Faust Festival 2009 showcased 44 performances as well as the premiere of Faust's Theatre in Education (TIE) programmes Peter & the Wolf and The Secret Garden. We presented a series of classic children's pieces and innovative new tales including Macbeth, Kip Marlowe and the Stolen Circus, Teasure Island, The Muskadets, Saturday Night Live!, Tom Sawyer and The Golden Age of Comedy.

Lord of the Flies
-
March 2009
The play featured an authentic all-male cast and was directed by Matthew Gregory and Kitty Cortes, with costumes by Idalia Camilo-Boutland, set designe by Colette Marsh and lighting design by Andy Burt. A plane crashed on a deserted island. The only survivors were a group of school boys. They lived in a land of bright exotic birds and dark blue seas, but at night their dreams were inhabited by a terrifying beast. Before long this well behaved group had turned into a bloodthirsty and murderous tribe.

A Little Princess
-
December 2008
Directed by Keon Woong Lee. This exciting new version celebrated the power of imagination and storytelling of the young heroine and our talented young cast. Audiences were enchanted and entertained as they were welcomed into the world of A Little Princess.
2007 - 2008

Faust Festival 2008
-
May 2008
Running, for the first time, over four weeks and with a total of 80 performances The Faust Festival 2008 showcased many classic children's tales including La Belle et La Bete, Gulliver's Travels, Pygmalion, The Jungle Book, Bugsy Malone and The Tales of The Arabian Nights and for the first time Shakespeare's popular play A Midsummer Night's Dream.

Andrea Darvill International Storyteller
-
May 2008
Return of international storyteller Andrea Darvill brought traditional stories, folktales and fairytales to life on the stage entertaining old and young alike and taking all on a magical journey. Using her natural talent and energy, assisted by a selection of props and costumes, Andrea enticed audiences with the Stories of the Small and the Brave, Tales of Royalty and the Magical Tales of Transformation.

Pinocchio
-
December 2007
Directed by Keon Woong Lee. An exciting new dramatisation of Pinocchio, the classic fable about a puppet who yearns to be a real, live boy. Faust's version of Pinocchio has been adapted for the stage by Keon Woong Lee whose use of movement, music and speech gave life to this great story.
2006 - 2007

The Happy Prince
-
December 2006
Directed by Jodi Gilchrist and an adaptation of the Oscar Wilde story about a statue who becomes friends with a migratory bird. Together they bring happiness to others in life and in death.

The Faust Festival 2007
-
October 2005
A dramatic feast for all the family! Return of some Faust favourites with Kip Marlowe, Marvin the Monkey Drummer and Robin Hood, some superb adaptations of children's literature and some great pieces devised by Faust members
2005 - 2006

Peter Pan
- October 2005
Directed by Matthew Gregory. Theatre goers got to take off and fly to magical Neverland for this swashbuckling epics that delivered non stop action, spell binding music and stunning choreography. A musical adaptation of Jim Barrie's ageless classic. The huge success of Peter Pan in Hong Kong encouraged Faust to take the show to Singapore!

A Christmas Carol
- December 2005
Directed by Keon Lee. Ebenezer Scrooge is the main protagonist and the many colourful characters in the story eventually show Scrooge what it means to have Christmas spirit.

Matilda
- April 2006
Directed by Keon Lee. Matilda is a little girl who never gets appreciated by her parents, is ignored by her bother and terrorized at school. She is smart and nice but above all she is brave.

Around the World in 80 Days
- March 2006
Directed by Matthew Gregory. A new version of the much loved classic tale took audiences on a whirlwind tour of the world. Audiences followed the intrepid Phileas Fogg as he races against time to save his fortune.

The Faust Festival 2006
-
May - June 2006
Performances from Hong Kong and around the world. Highlights include Shakespeare's As You Like It directed by Washington-based Jessica Lefkow, and many more performances by Faust members including The Little Prince, The Village Visitor, Jabberwocky and The Ancient Mariner.
2004 – 2005
Peter Pan
The Faust Festival 2005
-
May – June 2004
2003 – 2004
Oliver!
-
March 2004
The Faust Festival 2004
-
June 2004
2002 – 2003
Robin Hood
-
March 2003
The Faust Festival 2003
-
June 2003
2001 - 2002
The Lion, the Witch and the Wardrobe
-
March 2002
The Faust Festival 2002
-
June 2002
2000 – 2001
The Magic Forrest, Youth Arts Festival
Charlie and the Chocolate Factory
-
December 2000
The Faust Festival 2001
-
June 2001